I was born in the wonderful county of Suffolk. Sometimes people unfamiliar with the place ask me for recommendations, so here are ten of my favourites, in no particular order: There could have been scores more!
Ipswich: my home town but I was bound to pick this anyway. Lots of old buildings, little alleyways, parks, a couple of museums and the facilities you would expect in a county town. Go shopping at Sacred Earth and tell them I sent you! Try a ghost tour or seek out the places I write about in 'Haunted Ipswich' after dark. You will be spoilt for eating places too, not just in the town centre but on the redeveloped Waterfront. http://sacredearth.org.uk/ https://geminighosts.wixsite.com/tours
Minsmere bird sanctuary and the surrounding beach and countryside. Not forgetting the walk that takes you back to Dunwich cliffs and beach via Eastbridge Eels Foot pub! www.rspb.org.uk/reserves-and-events/reserves-a-z/minsmere/ www.nationaltrust.org.uk/dunwich-heath-and-beach
Southwold: charming independent shops, a unique pier full of automatons, an amber museum and beach huts the price of houses! The Sunday supplements have long recommended it – see why. Nothing to do with it being the home of the blessed Adnams brewery of course (a Suffolk Sacred Site!)
Iken: a small church built on a promontory that is believed to be the Anglo Saxon Icanhoe – a church & monastery built to commemorate the death of King Onna at nearby Battle of Bulcamp by the Mercians. It contains part of an Anglo Saxon stone cross.
Blythburgh: the massive cathedral size church has angels, carvings, a door scratched and burnt by Black Shuck, the demon dog and Southwold Jack ringing a bell for the end of sermons. Overlooking the gorgeous Blyth Estuary.
Dunwich: remains of a town that fell into the sea, famous fish and chips on the beach, small museum and a good pub.
Bury St. Edmunds: Some elegant old buildings, Englands smallest pub the Nutshell, Moyes Hall Museum and the Abbey Gardens. www.weststow.org/
Lavenham: masses of historic buildings including the Guildhall and church. Much used for filming including 'The Witchfinder General.' https://www.nationaltrust.org.uk/lavenham-guildhall
Sutton Hoo & Woodbridge. The burial mounds of Anglo Saxon royalty plus visitor centre displaying copies of the spectacular finds. Also view the nearby charming market town of Woodbridge with its tide mill, yacht harbour, theatre and independent shops www.nationaltrust.org.uk/sutton-hoo
There is much more about Suffolk history and folklore in my three Aelphame books and spooky stuff in Haunted Suffolk & Haunted Ipswich.
Honourable mentions also to Long Melford, home of many antique shops and two important old houses; Kentwell Hall & Long Melford Hall. There are interesting castles at Orford, Bungay and Framlingham, the Maltings Arts Centre & Concert Hall at Snape, the Waveney Valley and its towns & villages including Lowestoft, Beccles & Bungay, Felixstowe for seaside fun, Hadleigh for its old High Street buildings, Newmarket for its racecourse, Sudbury for the Gainsborough House Museum and open market, the Shotley Peninsular for its views of the River Orwell and Alton Water - the list goes on!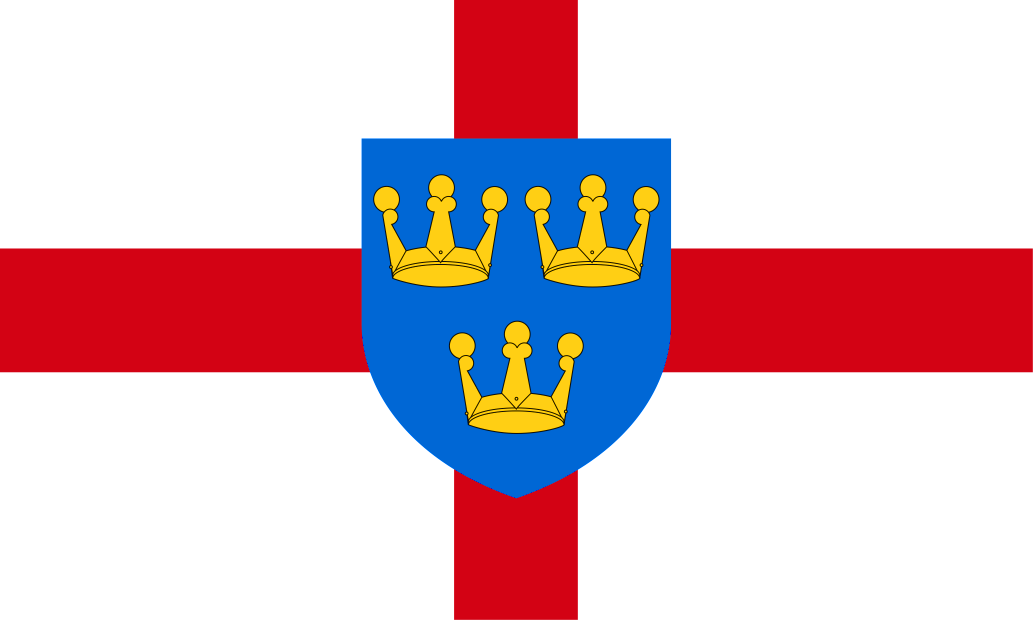 Flag of Suffolk