From the age of 12 Pete wanted to be a dj, inspired by the pirate radio boom of the late 1960s. After initially working under the name 'Pete Rave Disco' he later went on to appear with Spounge Disco, Adams Audio and the enormous City Limits Roadshow. As well as usual mobile work he also acted as a relief dj in clubs, compered major rock concerts and eventually spent 20 years presenting radio programmes for Radio Orwell, Saxon Radio, BBC Radio Suffolk, Ipswich Radio pilots and the internet based Pentacle Radio. Allegedly he also did a stint with a land based pirate station! Although the majority of the shows were based upon his love and knowledge of folk music, he also presented specials on the Sixties era and contibuted to many radio and tv shows dealing with Paganism & witchcraft.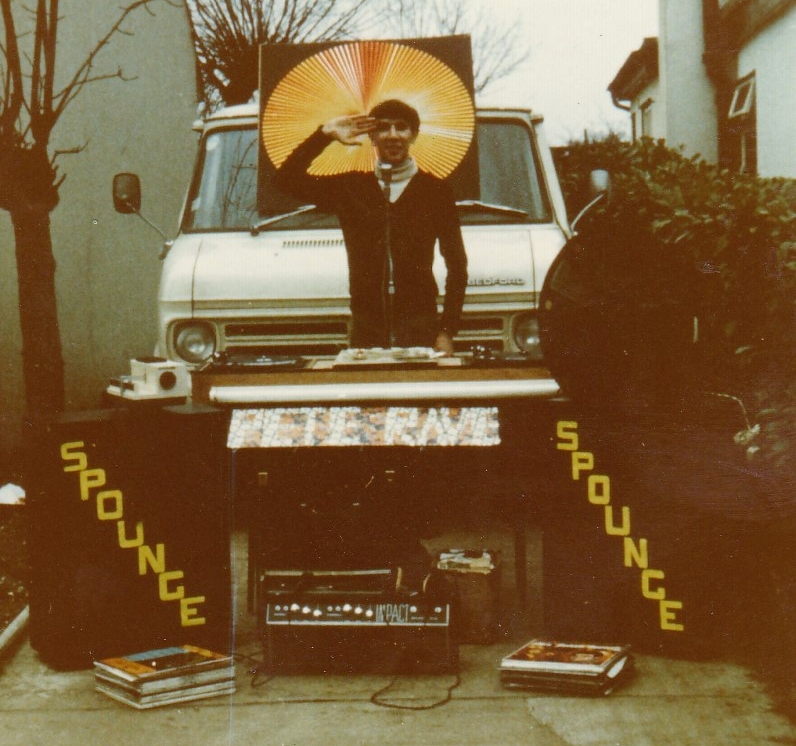 Spounge Disco 1973? & Pete Rave 1966?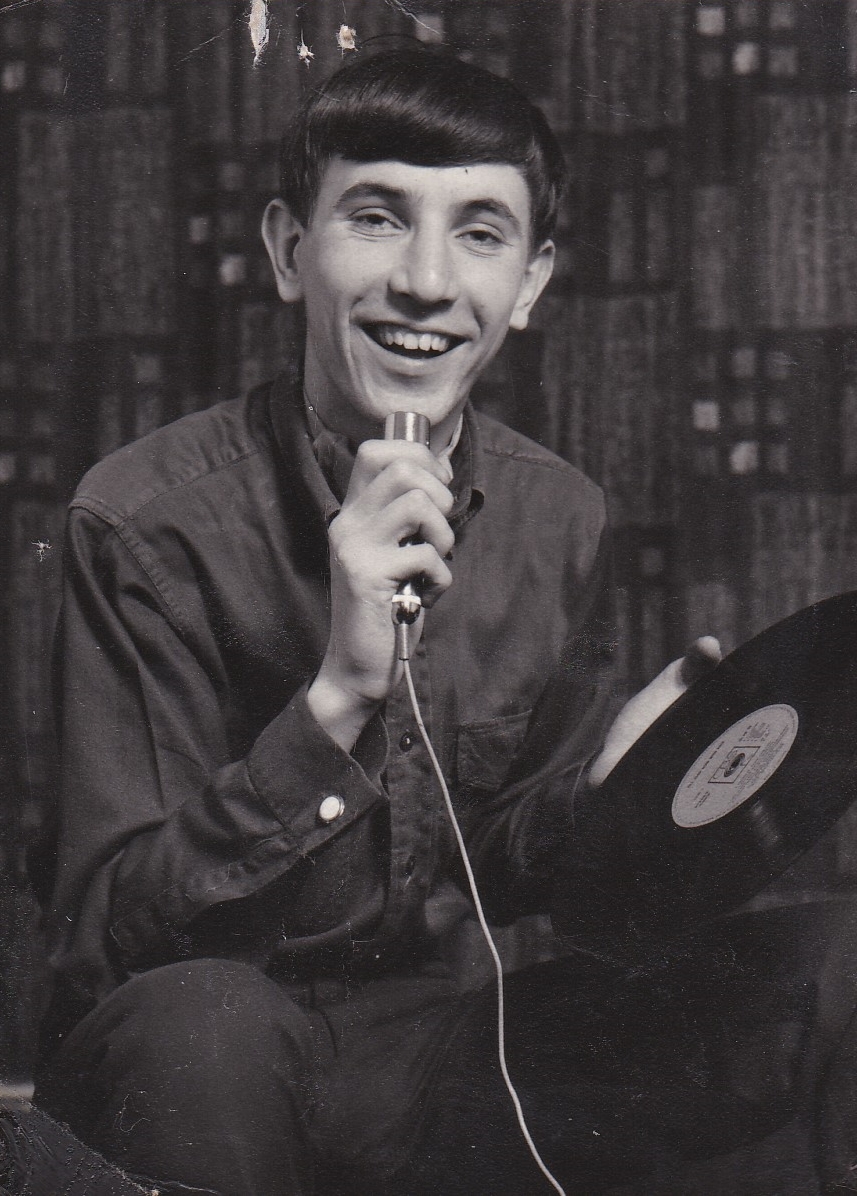 I have been playing about on Spotify, the music streaming platform. You can access music from it free if you don't mind some adverts, or pay a subscription. Anyway, for your delight I have compiled a public playlist of 140 tracks called 'Hippy love, peace, psych and freak outs.' I describe it as a Late 60s Early 70s UK Underground and American West Coast psychedelic love-in counterculture festival. It includes mainly the sort of stuff you could have seen at festivals at that time plus other subversive stuff miles away from commercial pop at the time. There is about 9 hours worth, so enjoy!
Spotify – Hippy love, peace, psych & freakouts.
My love of Progressive Rock music from the late 1960s - to late 1970s is reflected in over 24 hours of music contained on
Spotify- Pete's Proggy Favourites.
Then there is Lots of 60s, 70s and 80s with a smattering of more modern stuff. Purely down to my taste developed over years of attending UK folk clubs and festivals and running a radio programme.
Pete's UK & American Classic Folk & Folk Rock
Finally something a little specialist:
Spotify - Magical Folk for Pagans recommended by Pete Jennings
As well as his appearances as a folk singer and musician (see Folklore) Pete has always maintained an interest in rock. There were early bands whilst he was still at school: Infra Red & Prof. Keatons Experiment, an early proto-prog outfit. Later Pyramid of Goats was a vehicle for many of the songs he wrote, and issued one local album 'Just kidding', since reprised as a CD.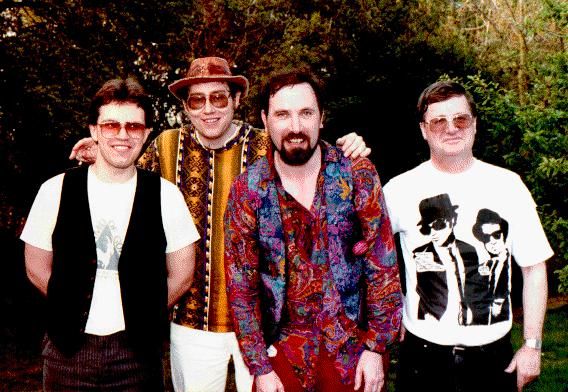 Pyramid of Goats 1990.
Pete also wrote music columns for two local newspapers: Ipswich Extra & Suffolk Leader, and frequently interviewed bands touring the area such as Thin Lizzy, Uriah Heep, Hawkwind etc
Pete has been a story teller for 30 years and enjoyed conducting Original Gemini Ghost Tours around Ipswich for 20 years. He still does storytelling, both solo and within Ealdfaeder Anglo Saxons re-enactment group. Pete even breathed fire for over 8 years but has given it up after a freak accident in 2017 incinerated his face and beard!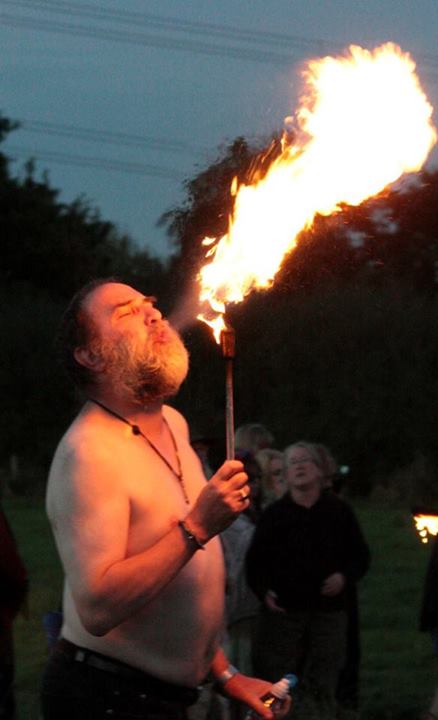 Pete

joined various drama groups including Centregroup working with Ivan Cutting and Dave Cadwick. They went on to form the amazing professional East Anglian company
Eastern Angles
.
Since then he has done some film extra work connected with re-enactment including the successful Lord of the Rings prequel 'Born of Hope.'
T
here was also the film Wild Hunt (2004) produced by Will 'Rev' Wright and Last Journey (2018).
Pete is featured in a 2009 BBC4 programme "In search of Beowulf & the Anglo Saxons", talking to the presenter Michael Wood. It has been repeated several times since then. He was also featured in the 1st (1994) series of Anglia TV 'Magic & Mystery Show' plus over 100 TV & radio appearances as Press Officer for the Pagan Federation on programmes as diverse as 'The Politics Show' and 'Countryfile.'
WHY NOT CHECK OUT PETE'S FAVOURITE MUSIC,
BOOKS &
FILMS IN
PERSONAL
Free YouTube Powerpoint presentations: